Men's Dress Touch-Command
Specification:
- Displays hour, minute, second, month, date. Has AM/PM indicators and day of the week (DOW)
- Touch-Sensitive points at 12 o'clock and 6 o'clock positions, they merely have to be touched for time and date.
- "Smart Calendar" adjusts automatically for 29, 30 and 31 day months
- Accurate to within 60 seconds a year
- Water-resistant to a depth of 30 meters
- Shock-resistant
- Sapphire time screen
- Auto/Set
- Light sensor
- Flat timing trimmer on back of module
Modules - 501, 502
Battery
-Two #386 button cells
Setting Instructions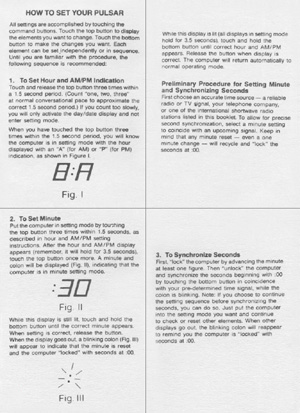 Brochure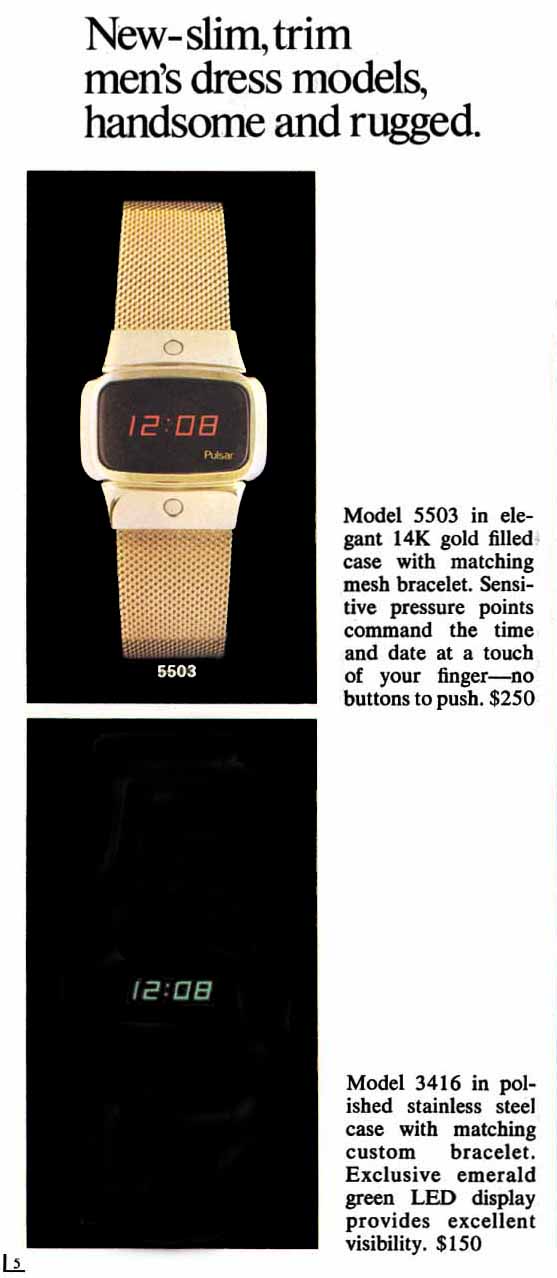 Product Information
This model, only available in gold-fill was the first of the Touch-Command production Pulsars utilizing the Touch Sensor buttons. The 5503 came just months before the rest of the TC line-up. The new 500 series modules had a larger display, Auto-set and indicated the day of the week with a two letter display. The 500 series is considered by many as the best LED module that came out of the Lancaster, PA facility.
Model Number
| | |
| --- | --- |
| 5503 | 14k Gold-Filled with 14k GF mesh bracelet |
Collector's Notes
The rumors of rarity are unfounded as there were plenty of 5503 watches sold to the public. Time Computer was nearing the end so yes, in general terms, there were less sold than earlier models.
There is however, a rare version with the Auto-Command 502 module (Flick-of-the-Wrist). Although all 500 series modules were setup and programmed for the AC feature, only about 5-10% of the 5503 watches had it. No other TC models were factory equipped with the 502. To find this version with the Auto-Command is a true prize for collectors.
This is the only model co-inventor, John Bergey kept to wear after donating his watches to the Smithsonian.


eBay HTML link: http://www.oldpulsars.com/5503.htm
Include this HTML code into your eBay auction description to link bidders to the information on this site about this particular Pulsar model. Using the exact link above is in accordance with all eBay seller rules & regulations!