Men's P3L (P3 Ladies for Men)
Specification
- Displays hour, minute, seconds, month, date, has AM/PM indicators.
- Accurate to within 60 seconds a year
- Water-resistant to a depth of 30m
- Shock-resistant
- Mineralite Crystal
- "Smart Calendar" knows the difference between 30 and 31 day month and changes automatically. February is programmed for 29 days, so no adjustment is required in leap year. In other years, change date only on March 1st.
- Fine-adjust timing trimmer on front of module
- Command button located at "12 o'clock" & "6 o'clock" positions
Module - 104
Battery
-Two #386 button cells
Setting Instructions
Product Information
This Special and VERY rare model was produced for men in the Asian market who's wrist are typically somewhat smaller. This model is only mentioned on page 54 in the second edition Jeweler's Technical Manual. The factory Bracelet is 7-7/8" long attached to the same case used for the Ladies Cushion model. Only available in Stainless, the P3L has the same 104 Auto-Set module used in the later men's Dress watches. The 104 module has a larger display than the typical modules utilized in the Ladies models
Model Numbers
| | |
| --- | --- |
| P3L | Stainless Steel case and special solid link bracelet |
Collector's Notes
This model is so rare that only two watches are known to exist. Both watches came from Japan with the Multi-Language fold-out instruction manual. This model uses the same links for adjustment as the 3100 and the 3201 solid link bracelets.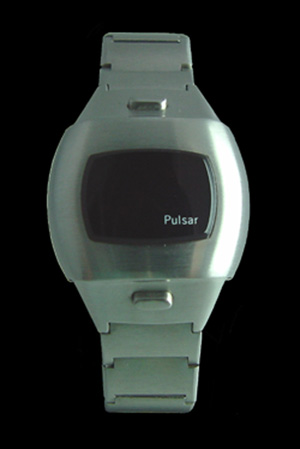 This model is much smaller and often mistaken for the Executive model.
Please carefully compare these two models before assuming you have a P3L.
On the left is the P3L . . . . on the right is the 2407 Ladies Cushion