History

This section is under revision, please excuse the mess until we can finish.
- Hamilton - Pulsar - Time Computer
This link details the complex timeline. Forget what you have heard and read in the past, this is the only fact based detailed timeline. You will, for the first time, be able to understand it, we hope. Please direct any questions here
This link describes the company and people that teamed up with The Hamilton Watch Company in the "Joint Effort", to develop the World's First Digital LED Watch. This is another fact based article including rare photographs never see before. Please direct any questions here
- Pulsar 40 Years Anniversary . . . . Prototype
This link celebrates the 40 year anniversary of the Pulsar. Pictures and details of the release of the Pulsar on May 6th, 1970 in New York City.
- Pulsar 40 Years Anniversary . . . . P1 - Limited Edition
This link celebrates the 40 year anniversary of the first production Pulsar. This was announced on April 4th, 1972 in a full-page advertisement in the Wall Street Journal.
- The Pulsar Project
We're working on it! . . . .
The Pulsar project
The Pulsar project began in 1966 in Hamilton's military products division where research and development manager John Bergey and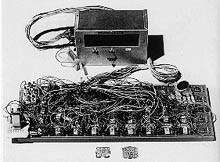 engineer Dick Walton had been developing an electronically timed fuse. To explore the feasibility of applying their work to a watch, Walton transferred to Hamilton's watch division, where at the time others were attempting to develop an analog-dial quartz watch. It was when the famed film director Stanley Kubrick, who's futuristic movie needed a "completely new type of clock" that the seed got planted for the Pulsar LED watch. When Hollywood contacted Hamilton to build the clock the challenge was met with a one of a kind clock. Unfortunately, the scene that included the clock was cut in attempts to shorten the movie. It was this very clock that was directly responsible for something much bigger, the Pulsar LED wristwatch. Today, the clock is still in the possession of the man who headed up the Pulsar Project and later became the President of Time Computer, Inc.. TCI manufactured the most successful LED watch EVER! A watch that to this day maintains the respect for quality and is one of THE most collectable digital LED watch.

Independently, at Electro/Data, Inc. of Garland, Texas, George Thiess and Willie Crabtree were at work on a quartz watch with a light-emitting diode digital display, a relatively new display technology that had grown out of semiconductor research. With Bergey now research and development head of the watch division, Hamilton proposed a collaboration with Electro/Data. The joint enterprise had their first prototypes by April 1970.

The Worlds first LED digital watch, the Hamilton prototype, didn't work very well...
The first LED (light-emitting diode) digital wristwatch wasn't a watch at all. It was a "solid-state wrist computer" in a steel-case designed by Ernest Trova, a well-known American sculptor.

Projected cost was $1,500 and you would have to wait until early 1971 for what a Hamilton Pulsar advertisement in the May 10, 1970, New York Times called a space-age wrist computer. Actually, you wouldn't get the watch at all - it was never manufactured! It didn't work well because of its complexity. The circuit was designed by Willie Crabtree at a Electro/Data Inc., where much of the assembly work was done by employees Jane Curry, Mary Arp and Al Torres.

With 2200 metal-to-metal connections, 13 ceramic circuit boards, 144 discrete light-emitting diodes, 3 phototransistors and 144 ICs (from RCA and Hewlett-Packard) it was doomed to fail.

In a press conference for the watch named the Pulsar (which Hamilton registered as a trademark), Hamilton said that this was the first new method of displaying time in 500 years.

Since LEDs consume a lot of battery power, the user had to press a button to show the time. This button, Hamilton explained, gave the user a feeling of involvement. An article in one trade magazine reported that Hamilton had thus far found bugs in all six prototype watches. At the May 6th press conference, Hamilton credited Electro/Data as being "a specialized supplier who worked closely with Hamilton in the development of Pulsar," which may have been the company's colorful description of saying E/D was the co-inventor.

Of the six watches that Electro/Data delivered, only three were brought to New York on the night before the press conference. On the following morning, only two worked. During the demonstration, one of that pair failed. An alert Hamilton technician went behind the curtain and switched watches, so the demonstration continued with the sole surviving working watch.
Smaller and smaller
Hamilton continued to pursue the digital watch and shrank it substantially. On April 4, 1972, it placed a full-page advertisement in The Wall Street Journal for the new $2,100 Pulsar Time Computer, now made by Time Computer, Inc., a division of HMW (the same company who owned Hamilton Watch). By Christmas, the company had sold most all 400 watches. "They were expensive to make" says Bergey. In those early days, RCA was getting a yield of 1 or 2 percent on a three-inch wafer, so the watch chip cost about $50. Today you can get a comparable watch chip for about 20 cents.

In the heady days of the 1970s, a good part of Hamilton was owned by Katy Industries. Katy created a shell, HMW Industries, which owned Hamilton Watch and a group of other companies. Katy split off the Pulsar from Hamilton and created Time Computer Inc., with John Bergey as president. Then Katy sold 30 percent of Hamilton in 1972, and the remainder in 1974 to a Swiss company, which is now Swiss Microelectronic and Horology, better known as SMH.

Pulsar expands
Pulsar, still part of HMW, was growing handsomely. It donated 30 early watches to the Smithsonian Institution and developed a series of LED-display timepieces, including the first calculator watch and a watch that could measure your pulse and heart rate. The company also built watch modules for Hamilton and Omega timepieces. It sold watches to upscale outfits like Neiman Marcus and Tiffany (the largest single customer). Meanwhile, technology marched on as Pulsar continued leading the world in LED watch manufacturing. Litronix introduced a digital watch, as did many semiconductor companies-including Intel, Fairchild, National Semiconductor and Texas Instruments. As is the custom, they drove down the prices until, at bottom, TI offered a digital watch in a plastic case with a plastic band for $10.
The beginning of the end...
Jewelry companies warned the semiconductor vendors that the watch was a piece of jewelry and should be marketed as such. The semiconductor companies scoffed at this advice from stuffy old-fashioned manufacturers and marched on-or, rather, marched down. They killed Pulsar, whose inventory was sold to a liquidator and whose name and patents were sold to Seiko in 1979.
You can now buy from Seiko with the Pulsar brand name, but not a watch with an LED display. The company does have digital watches-with liquid-crystal displays. And it sells lots of quartz watches, having developed the first quartz watch in 1969. That watch, the Seiko Astron, was somewhat more costly than many of today's quartz watches, going for $3,358, which was just a tad more expensive than a Toyota Corolla at the time, $3,134.

Nowadays, no LED-display watches are being made by Hamilton. Hamilton assembles watches in the U.S. Virgin Islands.